What are finishes in painting? What is decoration in painting? What are the types of wall finishes and which paint finish is best?
If you are currently planning to redecorate your home or repurpose one of the rooms in your house, then one of the important things that you'll need to consider is how you are going to decorate the walls. Do you want to repaint them? Have them finished with Venetian plaster? Or perhaps you're going to invest in some patterned wallpaper? Whatever the case, it's worth having a good idea as to what your options are. In this article, we're going to answer the following questions: 
What are finishes in painting? 
What is decoration in painting? 
What are the types of wall finishes? 
Which paint finish is best? 
Read on to find out more! 
What are finishes in painting?
What are the finishes in painting? Finishes in painting, refers to the style and texture of the finished job. For example, some paint finishes may have a higher sheen which gives them more shine, whereas others are flat and don't have any shine to them at all. The type of finish that you choose can depend on a variety of factors – but mostly focus on the aesthetic reasons and what type of look you are trying to achieve in your chosen décor.  
What is decoration in painting?
What exactly is decoration in painting? Decorative painting is a fairly broad category that encompasses a wide variety of different painting techniques and mediums that are applied to various surfaces. This could be anything from faux finishing, stencilling, tole painting, folk art, and more. Most often, acrylic paint is used for decorative painting. Again, the type of decorative painting that you choose will depend on what style of décor you are going for and the overall aesthetic finish that you would like for your room. 
What are the types of wall finishes?
Just, what are the types of wall finishes? There are many different types of wall finishes and they can be broken down into two main categories: Wall finishes and paint finishes. Let's break these down even further: 
Wall finishes:
Wallpaper

Stencils

Lime plaster

Concrete veneer

Tile
Paint finishes: 
Matt

Eggshell

Satin

Silk

Soft sheen

Gloss

Masonry paint

Chalky 
With paint finishing, there are a number of finishing styles as well, for example:
Ragging

Sponging

Glazing

Washing 

Stippling 

Strie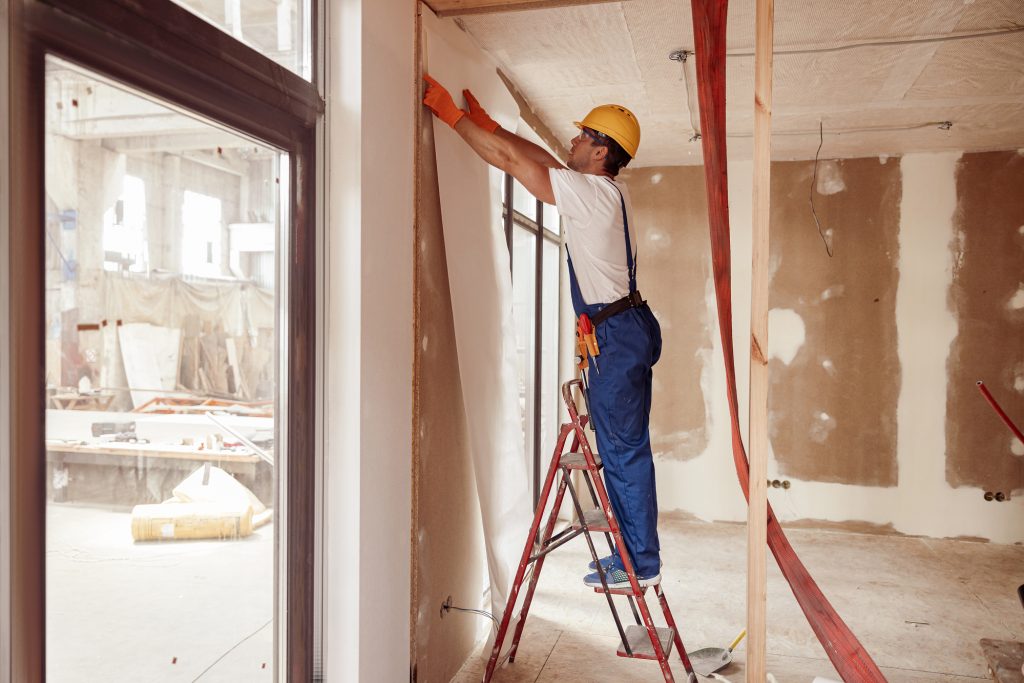 Which paint finish is best?
So, which paint finish is best? This is a difficult question to answer as there are a variety of different pros and cons for each. Again, deciding on which finish is best all depends on what sort of aesthetic style you are trying to achieve. 
Let's take a look at the three main wall paint finishes in greater detail so that you can get a better idea as to how they differentiate from one another and decide which appeals to you most. 
Flat:
Flat paint tends to have a nice, velvety, matte look and is a great choice for hiding any walls with imperfections
Flat paint is the least durable and doesn't stand up very well to scrubbing – important for future reference and cleaning
Fortunately, a simple soap and water mix should be decent enough to clean flat paint with, however, you may prefer a different sheen that is much easier to maintain. 
Satin:
Satin paint has a bit of sheen to it and this is an ideal paint finish for rooms like kitchens and bathrooms
Satin paint finishes stand up very well to scrubbing and regular cleaning 
The downside is that satin paint's glossiness tends to highlight any wall imperfections such as divots, cracks, and poorly patched areas – which means your walls should be properly primed and prepared before application otherwise the finish will suffer for it. 
Eggshell: 
The eggshell finish has a subtle shine to it 

Eggshell is a happy medium between flat and satin. This is because it's shinier than flat—though not as glossy as satin finishes—and easier to clean and maintain than flat—though not quite as easy to clean as satin

Eggshell finishes are ideal for living rooms, bedrooms, and hallways. 
Conclusion 
To recap:
Wall finishes refer to the texture, style and aesthetic of a wall's surface once properly treated

Decoration in painting is something that can offer your some more creative freedom and flexibility when finishing your walls

There are many different types of wall finish

Finding the "best" wall finish all depends on the style, texture, and ease of maintenance that you'd like to achieve. 
We hope that this article has been helpful to you. If you are feeling overwhelmed by the prospect of doing all of this DIY by yourself, then you don't have to go it alone. In fact, the best painters in Brisbane can not only make short work of your painting and decorating project but do so at some highly competitive prices. 
It's always tempting to DIY a project to save some money, but without the spare time or expertise, such a task can end up costing you far more than you'd anticipated. Often, the easiest thing to do is simply put your feet up and let the professionals handle the rest.